We are unintentional renters. We don't want to be renters, but we just haven't found that great town and awesome house to call home. So, for the time being, we are renters.
Disclosure: Mom of the Moment contains affiliate links and ads and I may receive compensation from your interaction with them, at no additional cost to you. Read more here.
Since Hubs and I have been married, we've rented two-bedroom houses. Unfortunately, with our most recent move, we ended up in an apartment.
And let me tell you, we are going stir crazy and our poor 3yo wants nothing more than a yard to play in.
Until we settle on a city and choose a house though, we're stuck here. So, as a Mom of the Moment, it's my job to figure out how to make this apartment feel like home.
5 Ways to Make Your Apartment Feel Like Home
1. Family Photos
First things first, you're going to want family photos everywhere. Don't hold back! Put pictures all over. This is your family and you want them on display in your house. It makes it feel cozy and like home, even if it's not or it's just temporary.
Even if you can put nails in the walls, no one wants to fill and repaint those nail holes when you move. So, stock up on some Command Strips for your frames.
Command Strips can get pricey quickly, so make sure to take note of the weight each strip can hold. Cut your strips as needed. If you have super lightweight frames, you can get away with hanging 3-4 frames with one medium Command Strip.
Picture Frames
If you're looking to save a buck on the frames, check your local dollar stores or consider ordering online. I got a great deal on 8″x8″ white picture frames from Michael's. Plus, they're always having online deals – check those coupon codes at RetailMeNot.com.
Photo Prints
To save money on the prints, upload and order your photos from someplace like CVS or Walgreens. Again, RetailMeNot.com will have all the coupon codes you could need. You can get great deals on photo prints that way.
2. DIY Wall Art
In most all rental properties, you're not going to be able to paint. Unless you have a super lenient landlord. But chances are, your walls are going to be white. Cover up those stark white walls with your own wall art.
Use those Command Hooks I mentioned earlier and attach a curtain rod to the wall. Then string up a tapestry, or even a really cool patterned sheet. This can double as a headboard, too.
Framed Art
Build your own giant frame. You can purchase 2″x2″x8′ pieces of lumber at any local hardware store. Form them into a square, cover it with fabric and use a staple gun to keep it in place. Bring back those Command Strips to help hang the art.
Multi-Canvas Art
Don't feel like building something or spending an arm and a leg on a huge piece of art? Purchase multiple canvases at your local craft store (I've even seen 16″x20″ canvas at local dollar stores). Create a fun, geometric design to replicate on each canvas and hang them proudly with your Command Strips.
Depending on how your apartment is designed, you may not have exterior access, or even a porch, for landscaping. That's okay! Bring the plants indoors. Not only will they purify the air, but they'll look great and add color and comfort to your place.
4. Throws and Pillows
Nothing says home like coziness. Let's face it, if you're comfortable somewhere, you'll want to be there. Take a trip to Ikea, TJ Maxx, or Target and stock up on throws and pillows to adorn your furniture.
I'm loving the fringe on this one, plus it comes in four colors!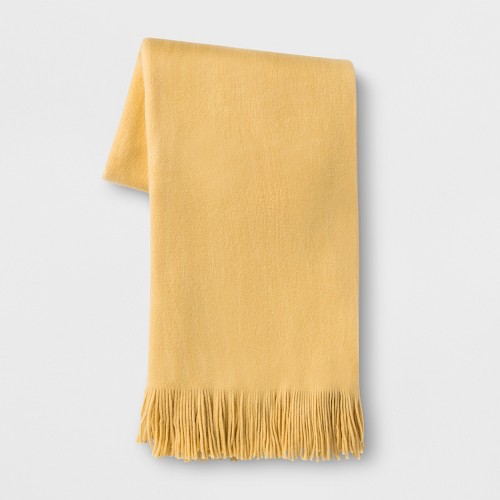 5. Clean It
I'd say the one thing that makes apartments not feel like home to begin with, is knowing that someone else lived there before you.
Disinfecting Wipes
Pull your hair up and grab your canister of Clorox wipes. Not only will you kill the germs, but you'll add a nice scent to the house. Remember to wipe off all the light switches and doorknobs, too. Those tend to be the dirtiest and the least cleaned between tenants.
Carpet Clean
If you've got carpet, run a carpet cleaner over the place. If you can do this before you move your stuff in, all the better. The cleaner the carpet, the more comfortable you'll feel, especially if you've got little one's that like to play on the floor.
(Bonus) 6. Create Memories
You may only be in your apartment for a short time, but you can create some fun memories while you're there. Things, 20 years from now, you'll reminisce over at your dinner table in your mansion.
Running short on memory making ideas? Try some of these or these.
You Tell Me
If you're an apartment-dweller, or have been in the past, what's the best thing you did to make that apartment feel like home? Tell me in the comments!
©2020 Mom of the Moment